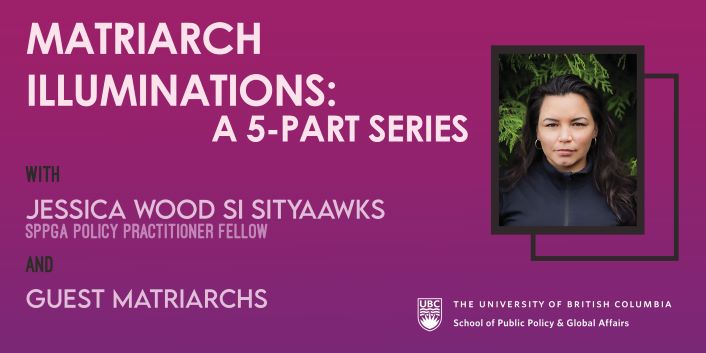 Jessica Wood, known as Si Sityaawks (Woman who creates change), from the Gitxsan and Tsimshian First Nations with roots among the Tahltan and Nisga'a Nations, is engaging in dialogue for a 5-part series called Matriarch Illuminations in November and December 2020. Jessica Wood is the current Policy Practitioner Fellow at the School of Public Policy and Global Affairs at the University of British Columbia and she will host fellow Matriarchs from across Turtle Island.
Students, staff, faculty and community members are invited to pour themselves a cup of tea and sit around the virtual table to listen.
Format: A 45 min discussion, 15 min Q&A from 5:00 pm – 6:00 pm on various evenings on Zoom
Audience: All are welcome. Questions will be prioritized from Indigenous, Black and People of Colour attendees.
Schedule:
"Dreaming, Sovereignty & Matriation" with Patricia M. Barkaskas, Associate Professor of Teaching, Peter A. Allard School of Law, UBC
Monday, November 16, 2020
5:00 pm – 6:00 pm PST
Learn more – Event Recording Available
"Safety and Matriarchy" with Brenda Butterworth-Carr, Assistant Deputy Minister and Director of Police Services
Monday, November 23, 2020
5:00 pm – 6:00 pm PST
Learn more – Event Recording Available
"Storytelling as Guidance" with Tanya Talaga, Canadian Journalist and Author
Monday, November 30, 2020
5:00 pm – 6:00 pm PST
Learn more – Event Recording Available
"Making Law and Policy – Matriarch Traditions" with Dr. Mary Ellen Turpel-Lafond, Director of the Indian Residential School History and Dialogue Centre and Professor, Peter A. Allard School of Law, UBC
Wednesday, December 2, 2020
5:00 pm – 6:00 pm PST
Learn more – Event Recording Available
"Where we go from here" with Andrea Reimer, Adjunct Professor of Practice, School of Public Policy and Global Affairs and Sheryl Lightfoot, Professor, School of Public Policy and Global Affairs and Department of Political Science, UBC
Thursday, December 3, 2020
5:00 pm – 6:00 pm PST
Learn more – Event Recording Available
Hosted by: