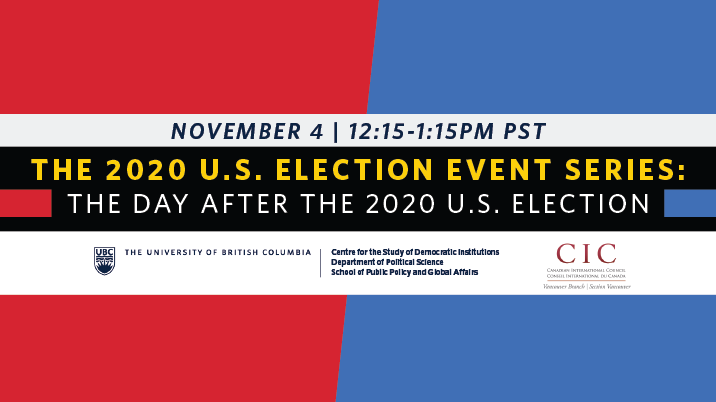 This event is a part of UBC's "2020 U.S. Election Event Series." Please stay tuned for future events.
The day after the U.S. election, our panelists will discuss turnout and election night returns. Given the less than traditional nature of this election, clear results may not be forthcoming immediately, but some of the next steps may be clear. Our panelists will discuss the legal issues around vote counting and the determination of a winner and what processes might be invoked to clarify results. They'll also look at international reaction to the outcome and what to expect in the coming weeks.
Student Host: Nicolas Tyler, Master of Public Policy and Global Affairs, UBC
Moderator: Megan Dias (PhD student, University of Texas at Austin; MA, UBC Political Science)
Panelists: Kristen Hopewell (UBC School of Public Policy and Global Affairs); Robert Russo (Peter A. Allard School of Law); Matthew Wright (UBC Political Science)
Bios:
Megan Dias is a PhD student at the University of Texas at Austin. She's interested in questions around immigration, multiculturalism, and how we live and govern together in diverse democracies. Megan did her MA in Political Science at UBC (and returned to Vancouver a couple of months ago to escape the COVID numbers in Texas). She's worked with the Institute for Future Legislators since 2017. In 2019, she helped bring the Institute to Toronto and has worked as the Program Coordinator for the IFL at Ryerson University since.
Kristen Hopewell is an Associate Professor and Canada Research Chair in Global Policy at the School of Public Policy and Global Affairs at UBC. Her research specializes in international trade, global governance, industrial policy and development, with a focus on emerging powers. Dr. Hopewell has written two books on global economic issues and her policy writings have been featured in various major magazines and newspapers.
Robert Russo is a Faculty Lead Lecturer for the LLMCL program at the Peter A. Allard School of Law. Dr. Russo's interests in law include human rights, labour and justice issues. His research has been primarily in the area of immigration and labour/employment law and he has published several peer-reviewed articles in this field. He is an active member in the local legal community and a member of the Law Society of British Columbia.
Matthew Wright is an Assistant Professor of Political Science at UBC. His research explores how both political identities and core values influence peoples' attitudes about immigrants, immigration policy and diversity more generally. Dr. Wright's work has appeared in various political science journals and publications. His latest book, Immigration and the American Ethos, further explores these subjects.
Co-hosted by: The Centre for the Study of Democratic Institutions, School of Public Policy and Global Affairs, UBC; UBC Political Science; The Canadian International Council