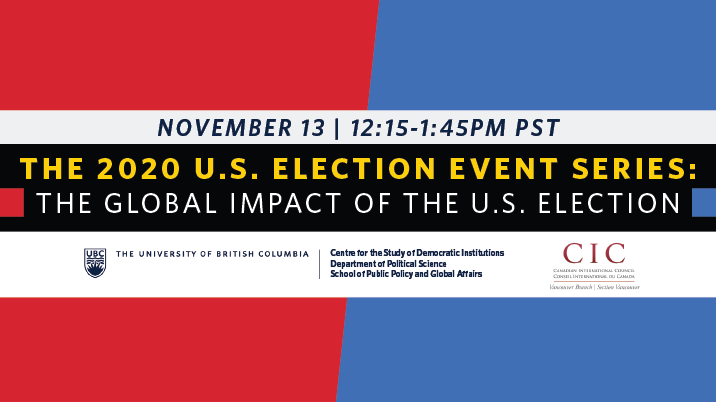 This event is a part of UBC's "2020 U.S. Election Event Series." Please stay tuned for future events.
This panel will examine the impact of the U.S. election on international security, international trade and economy, and global climate politics and policy.
Student Host: Paige Rumolt, Master of Public Policy and Global Affairs, UBC
Moderator: Gerald Baier, Acting Director, Centre for the Study of Democratic Institutions, School of Public Policy and Global Affairs, UBC
Panelists: Hugh Gusterson (UBC Anthropology); Kathryn Harrison (UBC Political Science); Christopher Sands (Johns Hopkins University)
Panelist Bios:
Hugh Gusterson is a Professor in the Department of Anthropology at UBC. His work focuses on nuclear culture, international security and the anthropology of science and his research interests also include militarism, neoliberalism, counterinsurgency, and securitization. Dr. Gusterson's articles have been featured in various magazines and newspapers and he has a regular column in the anthropology journal, Sapiens.
Kathryn Harrison is a Professor of Political Science at the University of British Columbia. Her primary areas of research are environmental policy, federalism, and comparative public policy. Dr. Harrison has authored and co-authored books on these subjects and has published many articles in political journals, magazines and newspapers. She has also advised local, provincial, and national governments.
Christopher Sands is a Senior Research Professor and Director of the Center for Canadian Studies at Johns Hopkins University. Dr. Sands has a decade of teaching experience and over two decades of experience at Washington think tanks. Dr. Sands' most recent book is on Canada-U.S relations and he is currently working on a book on the evolution of the North American political economy.
Co-hosted by: The Centre for the Study of Democratic Institutions, School of Public Policy and Global Affairs, UBC; UBC Political Science; The Canadian International Council