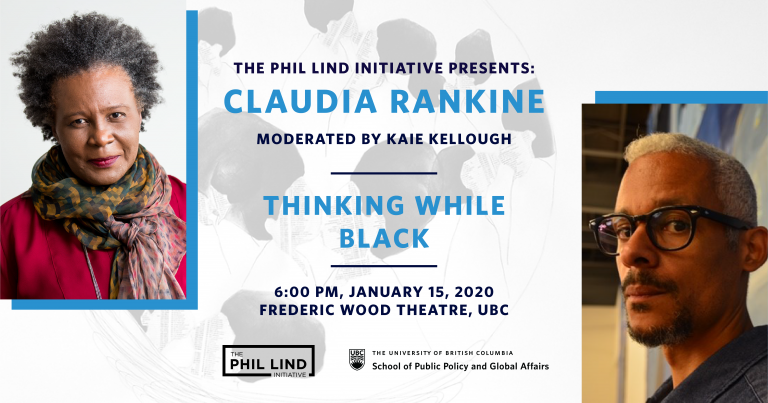 UBC's School of Public Policy and Global Affairs is proud to present Claudia Rankine, New York Times bestselling poet, MacArthur "Genius" award recipient, and Professor at Yale University, as the first speaker in our 2020 Phil Lind Initiative series on Thinking While Black.
The moderator for this event is Kaie Kellough, novelist, poet, and sound performer.
Please note: This event is now sold out.
Ticket holders are requested to arrive at the theatre by 5:50 pm to secure their seat. Please cancel your ticket if you are no longer able to attend. Thank you.
We are not managing a Waitlist in advance but we encourage non-ticket holders to speak to staff at the Waitlist table at the venue to sign up (on a first come, first serve basis).
Learn more about the 2020 Thinking While Black series here.
Blackness as a form, concept and experience, has fundamentally shaped American iconographies, language, media, and cultural productions. This series invites us to consider Blackness as both a culture and a mode of thinking. This series will meditate on the structures of race in North America and will spotlight the seemingly disconnected forms of racial violence that hide in plain sight. How, despite shifts in rhetoric and political policy, have so many forms of racial violence persisted? How, we ask, can we rethink ourselves by understanding our relations to blackness?
Bio: Claudia Rankine is the author of five collections of poetry, including Citizen: An American Lyric and Don't Let Me Be Lonely; two plays including The White Card, which premiered in February 2018 (ArtsEmerson/ American Repertory Theater) was published with Graywolf Press in 2019, and Provenance of Beauty: A South Bronx Travelogue; as well as numerous video collaborations. Her next publication, Just Us, is a collection of essays forthcoming with Graywolf Press in 2020. She is also the editor of several anthologies including The Racial Imaginary: Writers on Race in the Life of the Mind. In 2016, she co-founded The Racial Imaginary Institute (TRII). Among her numerous awards and honors, Rankine is the recipient of the Bobbitt National Prize for Poetry, the Poets & Writers' Jackson Poetry Prize, and fellowships from the Guggenheim Foundation, the Lannan Foundation, the MacArthur Foundation, United States Artists, and the National Endowment of the Arts. She is a Chancellor of the Academy of American Poets and teaches at Yale University as the Frederick Iseman Professor of Poetry. She lives in New Haven, Connecticut.
Bio: Kaie Kellough is a novelist, poet, and sound performer. His work emerges at a crossroads of social engagement and formal experiment. From western Canada, he lives in Montréal and maintains a strong relationship with the Caribbean, with roots in Guyana, South America.
His books include Magnetic Equator (poetry, McClelland and Stewart, 2019), and Dominoes at the Crossroads (short fiction, Véhicule, 2020). His novel Accordéon was shortlisted for the Amazon/Walrus Foundation Fist Novel Award. Kaie's work has been recognized by the Manitoba Book Awards, the League of Canadian Poets, and Carte Blanche Magazine.
Kaie's vocal performance, recorded audio, and electronic narrative explore migration and the suspension of arrival. Since 2011 he has created mixed media compositions with saxophonist and synthesist Jason Sharp.
Kaie's work has traveled internationally, notably to festivals in the UK, Australia, and continental Europe. He continues to craft new passages.
Subscribe to our Phil Lind Initiative Newsletter for updates regarding when tickets will be released for each event.
Disclaimer: Please note that by using this service, your information will be stored on the Eventbrite server, which is located outside Canada. If you do not wish to use this service, please email lind.initiative@ubc.ca directly to register. Thank you.
*Artwork Credit: Sandra Brewster
*Kaie Kellough Image Credit: Melissa-Anne Cobbler
Download the 2020 Phil Lind Initiative Series  Thinking While Black Poster
Hosted by: