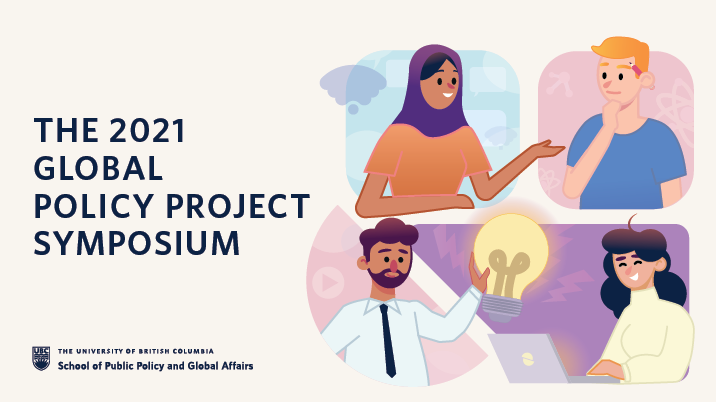 As a defining element of UBC's professional Master of Public Policy and Global Affairs (MPPGA) curriculum, the Global Policy Project (GP2) provides the opportunity for MPPGA students to engage with policy makers and civil society organizations on a real-world policy challenge, in Canada and around the world. Learn more on the Global Policy Project page.
On April 15, 2021, MPPGA students from the 2019 cohort presented their policy report findings at the virtual Global Policy Project Symposium held by the UBC School of Public Policy and Global Affairs. These projects spanned the globe with local Indigenous clients, as well as clients from India, Singapore, Nepal and the USA. The teams tackled issues that ranged from the development of a Climate Action Strategy to the adaptation of the Nepalese education system to a COVID-19 friendly model.
Watch the student team presentations below to take a closer look at the Global Policy Projects from this year.
---
Development in South Asia
Disparity and Disconnection: Impacts of COVID-19 on Education in Nepal
MPPGA students Boyd Hayes, Nabila Farid, and Riya Sirkhell worked with their client, Open Learning Exchange (OLE) Nepal, to conduct research that assessed the opportunities and challenges that have emerged as the Nepalese education system adapts to COVID-19 through a hybrid back-to-school model.
"I am still extremely thankful for the wealth of knowledge and practice that I was able to learn and engage in throughout my second year. I was excited to be selected for the OLE-Nepal project, as this was a brand-new opportunity for me to research. These experiences played a larger role in shaping the ways I think, act, and understand cultural competency." – Nabila Farid
A Farmer Assistance Scheme Database: Agriculture, Solar and Food Processing in India
With their India-based client, the SELCO Foundation, MPPGA students Ziwei Luo, Gavin Davies, Matthew Colenbrander, and Clinton Mix provided in-depth research and a comprehensive description of the policies and initiatives that facilitate small/micro scale green-energy food processing in India, supporting SELCO's future programming and advocacy work.
Advancing Electronic Commerce and Digital Trade between ASEAN and Canada
MPPGA students Esther Ocheni, Edwin Edou, and Shane Dial worked with their client, the Canada-ASEAN Business Council (CABC), to understand the gaps that Canada's future ASEAN Free Trade Agreement can address by harnessing electronic commerce and digital trade.
"Completing the Global Policy Project is a great accomplishment and I feel that I can take skills I learned and apply them moving forward" – Shane Dial
---
Indigenous Partnerships
Village of Lax̱g̱alts'ap: Assessment of Sea-Level Rise Adaptation Strategies
Working with the Nisga'a Village Government of Lax̱g̱alts'ap, MPPGA students Brayden Pelham, Stephen Patenaude, Erica Steele, and Victoria Ker, the research from this project focused on assessing the adaptation strategies that are available for the Lax̱g̱alts'ap as they respond to rising water levels along the Nass River.
"Encompassing reconciliation, climate change, Indigenous governance and planning, the project has been incredibly beneficial, interesting and challenging."- Brayden Pelham
Contributing to a Safe Land based Education Program for the Tahltan Community
In partnership with the Tu'dese'cho Wholistic Indigenous Leadership Development (TWILD) Society, MPPGA students Sumaiyyah Adam, Jessika Woroniak, Khushi Haranahalli, and Lilian Shams-Amiri worked with the Tahltan community to assess the existing processes for that land based learning and review strategies used in similar programs to support the creation of community-specific education policy safety protocols.
"This experience has forever changed the lens through which I perceive the world. Without knowing exactly what career awaits me, I can confidently say this will have an impact on how I approach my work, the decision I make, the people I consult, and more." – Jessika Woroniak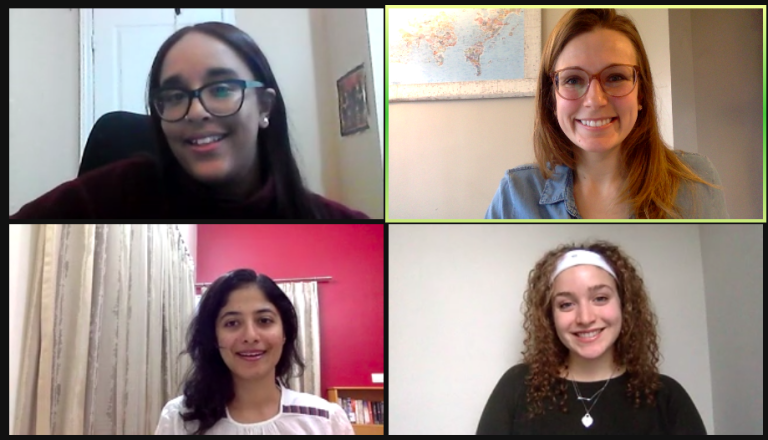 Climate Action Strategy: Coordinating Action on Squamish Nation Territory
Working with the Sḵwx̱wú7mesh Úxwumixw (Squamish Nation), MPPGA students Kingsley Eze, Remy Hellstern, Nidhi Sharma, and Claire Ross worked to support the development of the Squamish Nation's first of its kind Climate Action Strategy, which is currently in its information gathering stage. The research team provided a comprehensive report on all climate initiatives, actions or commitments made by municipalities across the Squamish Nation's traditional homelands to determine emissions levels as well as the opportunities and risks created by those municipal actions.
"I have immense interest in climate and energy issues, a field in which I want to build my career. I had little knowledge prior to this project about how local governments in Canada deals with climate change challenges. The project helped to expand the knowledge horizon about climate action plan at local government level, and the challenges and opportunity related to it." – Nidhi Sharma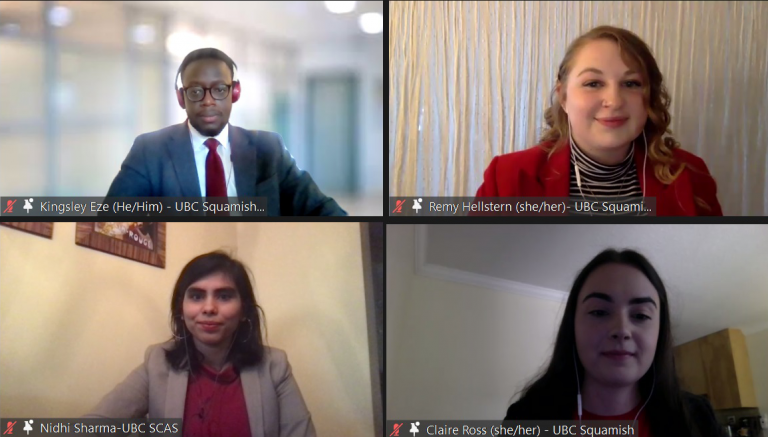 21st Century Governance
Opportunities to Decolonize 'The Vancouver Plan'
With local clients, the Department of Planning, Urban Design, and Sustainability at the City of Vancouver, MPPGA students Archana Rajendren, Michael Law, Isabella Pepe, and Alexander Howes worked to assess strategies used by communities to support the City in developing an initial understanding of what they imagine a decolonized City should look like from a policy and/or land-use perspective.  The City will use that information to fully realize what a "decolonized city" might look like in the context of the current "Vancouver Plan" planning process.
"We wanted to express our gratitude for the opportunity of working with the team on this project and looking at the way forward in terms of taking the recommendation of this study and how we advance work on the Vancouver Plan… It's a great partnership and really great work" – City of Vancouver
Prioritizing Threats and Allocating Resources: Applying Lessons from Four Sectors to Inform National Security Priorities
In this project, MPPGA students Daniel Park, Easton Smith, Nicolas Jensen, and Yahe Li worked with client the Canadian Security Intelligence Service (CSIS) to improve the policy planning process pertaining to the challenge of balancing priorities between short-term threats to life (e.g. terrorism), and long-term strategic threats (e.g. economic security) by developing a menu of prioritization options by studying how other governmental and private sector organizations balance competing priorities.
"I appreciated the energy and innovative spirit you brought to this unique challenge. I am grateful for the outcome. You have given us much to think about. That final version did a great job of tying the ideas proposed to the national security context. I intend to follow-up on the recommendations, including sharing them with key government stakeholders." – the Canadian Security Intelligence Service (CSIS)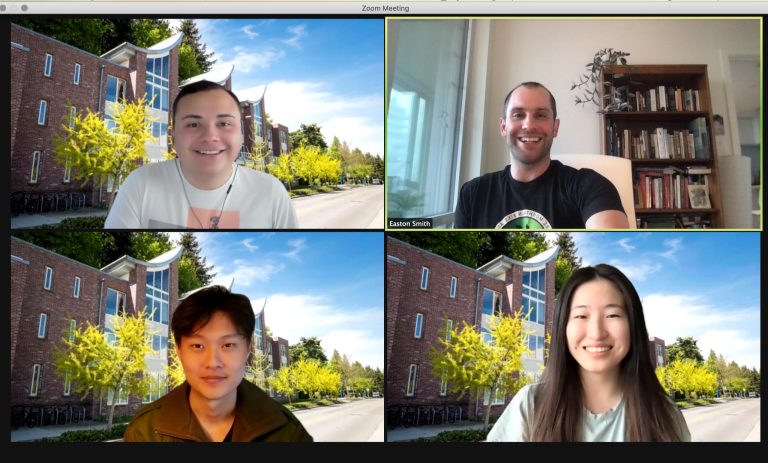 Strategies for Strengthening Relations Between the Canadian Armed Forces and Civil Society Organizations
MPPGA students Claudia Kobetitch, Muhialdin Bakini, and Travis Liu worked their client, the Dallaire Centre of Excellence for Peace and Security, to assess the role of Canada's National Action Plan on Women Peace and Security in the Canadian Armed Forced approach to implementing UNSCR 1325 within its operations in Iraq.
"…The perspectives that they offered, particularly representing what they heard from civil society organization in Iraq has been hugely helpful for us…" – the Dallaire Centre of Excellence for Peace and Security
---
Refugees and Internally Displaced People 
Refugee Resettlement: Exploring Barriers to Success for New Vermonters 
This Global Policy Project is a partnership with the Vermont Lieutenant Governor's Office where MPPGA student Hazel Brewster supplied Rethe Lt. Governor with the information necessary to garner a comprehensive understanding of the current state of refugee resettlement in Vermont. The goal of the research project was to highlight existing barriers that must be addressed to strengthen the existing policy infrastructure in anticipation of an influx of refugees coming to the state.
Impact of Climate Change on Sexual and Gender Based Violence on Internally Displaced Persons in Haiti
With their New York-based client, the Global Justice Center, MPPGA students Gina Zuno, Paige Rumelt, Joshua Diemert, and Sogol Ghattan-Kashani conducted research to determine the gaps within the Haitian legal and policy frameworks, which allow climate emergency events (e.g. hurricanes) to heighten the risk of sexual exploitation and trafficking.
"That was extremely enlightening and obviously a very high quality piece of work that is something that we at GJC have been very excited about for the duration of the project" – Global Justice Center