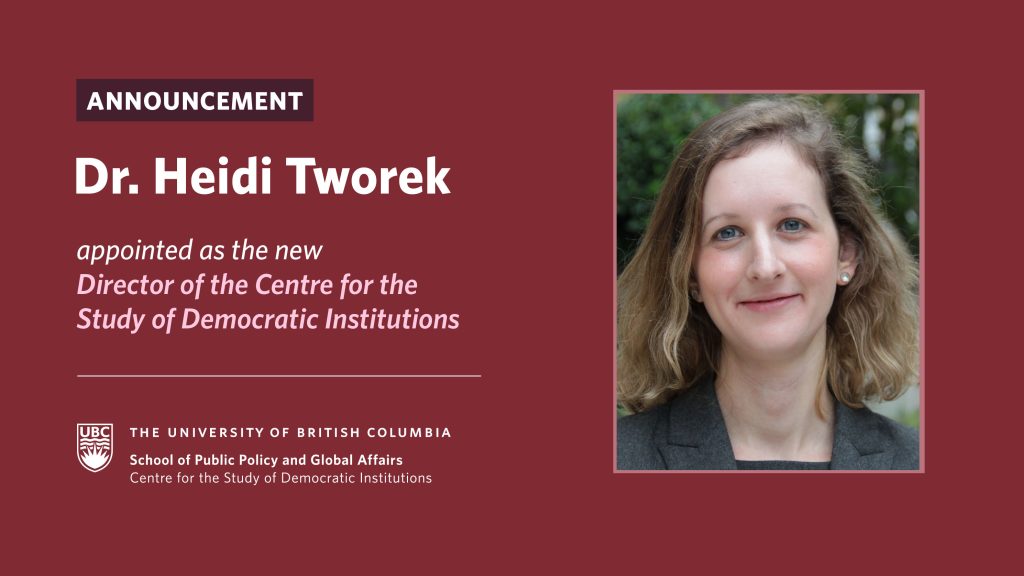 Associate Professor Heidi Tworek (SPPGA; History) has been appointed Director of the Centre for the Study of Democratic Institutions (CSDI) within the School of Public Policy and Global Affairs starting July 1, 2022. CSDI supports publicly engaged research, teaching and knowledge-sharing on democratic practices and institutions, with a focus on citizen engagement and participation, constitutional governance, and transitional regimes.
Dr. Tworek is Tier 2 Canada Research Chair in History and Policy of Health Communications. Her research brings a historical sensibility to policy discussions, particularly around communications and international organizations. She was recently awarded funding for a major project on "Mobilizing a Network of Health Communicators to Investigate and Respond to Online Abuse." As an expert on platform governance, the history of media technologies, and health communications, Dr. Tworek is sought after for commentary on both domestic and international issues and has advised officials and policymakers from multiple European and North American governments on media, democracy, and the digital economy. She is currently a senior fellow with the Centre for International Governance Innovation (CIGI).
Dr. Tworek has published two reports with CSDI in the past. "Trolled on the Campaign Trail: Online Incivility and Abuse in Canadian Politics," co-authored with Dr. Chris Tenove, examined incivility on social media in the 2019 federal election campaign and beyond, drawing on an analysis of over one million tweets directed at candidates in the campaign, and on interviews with candidates, campaign staff, and elected officials. The report, "Democratic Health Communications during Covid-19: A RAPID Response," co-authored with Ian Beacock and MPPGA alum Eseohe Ojo, laid out framework for how to communicate during a public health emergency in ways that strengthen democratic norms and processes rather than undermining them.
Dr. Tworek stated: "At a time of increasing challenges to democracy, I'm looking forward to growing CSDI and tackling issues from health to online abuse."
SPPGA acknowledges outgoing CSDI Director and Political Science Professor Gerald Baier for his leadership, and navigating the challenges posed by the pandemic. CSDI delivered a fully virtual Institute for Future Legislators (IFL) in 2021, with participants from across Canada. The IFL provides intensive hands-on mentoring and training for a diverse body of future lawmakers. Participants engaged in exercises and a program-long simulation, facilitated by practitioners and experts from all partisan stripes. CSDI also hosted a high profile webinar series, "Canada's 2021 Federal Election," to bring panelists together to comment on campaign issues and dynamics and evaluate the results of the federal election, moderated by Prof. Baier.