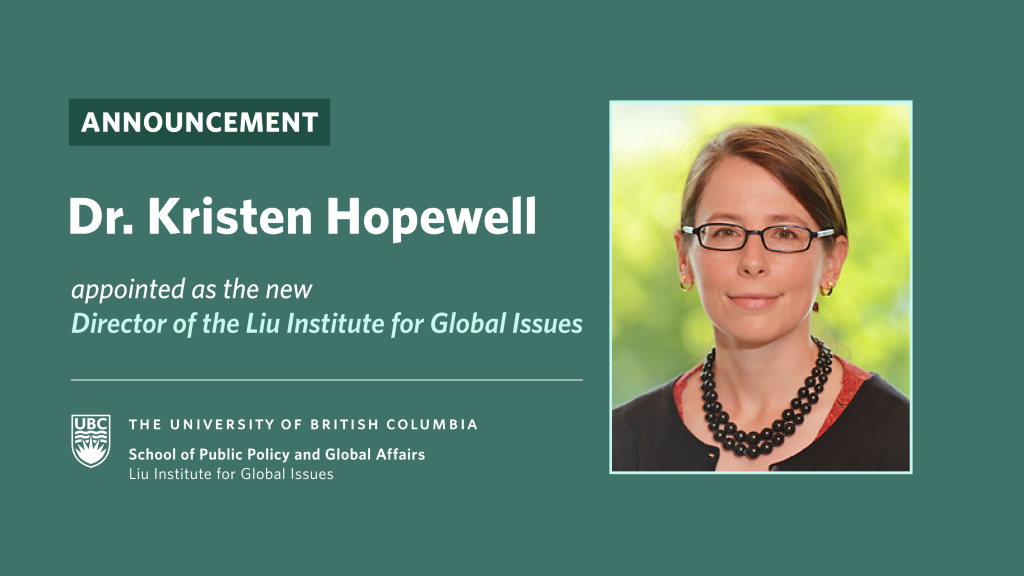 Associate Professor Kristen Hopewell has been appointed Director of the Liu Institute for Global Issues for a three-year appointment within the School of Public Policy and Global Affairs starting July 1, 2022. A founding unit of the school, the Liu Institute is an interdisciplinary research hub that aspires to influence academic and public debates about global issues, inform policy decisions, and become an important source of ideas, education, information and perspectives. The Liu Institute is host to the Liu Scholars program, the Lobby Gallery, several graduate student networks, and two student awards.
Prof. Kristen Hopewell is Canada Research Chair in Global Policy at the School of Public Policy and Global Affairs. Her research specializes in international trade, global governance, industrial policy and development, with a focus on emerging powers. Dr. Hopewell was recently award an Insight Development Grant by the Social Sciences and Humanities Research Council for her research project, "Industrial Policy in the Age of Globalization."
Dr. Hopewell is the author of Clash of Powers: US-China Rivalry in Global Trade Governance (Cambridge University Press, 2020) and her academic research has appeared in journals such as Review of International Political Economy, Regulation & Governance, International Affairs, and New Political Economy. Her policy writings have appeared in various outlets such as Foreign Affairs, The Washington Post, Nikkei Asia, and The Globe and Mail and her analysis has featured in the BBC, CNN, Bloomberg, Reuters, and more. She is also a Wilson China Fellow at the Wilson Center in Washington, DC.
Dr. Hopewell shared: "It is an honour to assume this role. With its rich history of serving as a vital hub of scholarship and policy engagement at UBC, the Liu Institute seeks to tackle some of the most pressing issues and challenges in global affairs today."
SPPGA acknowledges outgoing Liu Institute Director M. V. Ramana, Simons Chair in Disarmament, Global and Human Security at the School of Public Policy and Global Affairs, who has led the Liu Institute since 2017. Prof. Ramana led on a renewed vision for the Liu Scholars program, which more closely connects PhD students with SPPGA faculty members to carry out projects based on an annual theme.
Prof. Ramana also oversaw two annual awards: the Simons Award in Nuclear Disarmament and Global Security, where student recipients pursued research on topics broadly related to nuclear disarmament, as well as the Olav Slaymaker Scholarship in Environment, awarded to graduate students pursuing environmental studies, particularly those related to nuclear issues.