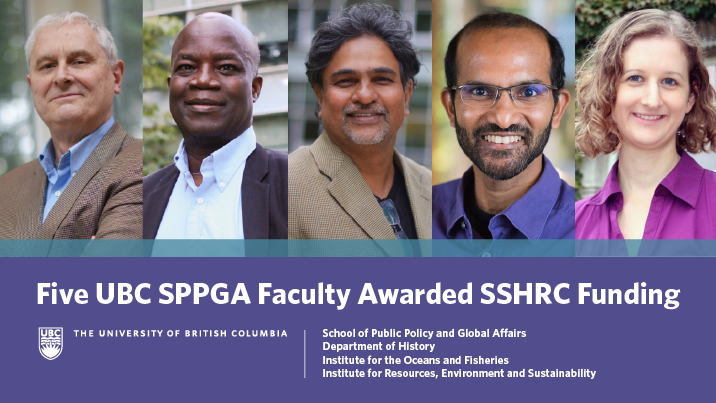 UBC's School of Public Policy and Global Affairs (SPPGA) congratulates professors Rashid Sumaila (SPPGA; Institute for the Ocean and Fisheries), Timothy Cheek (SPPGA; History), Milind Kandlikar (SPPGA; Institute For Resources Environment and Sustainability), Navin Ramankutty (SPPGA; IRES), and Heidi Tworek (SPPGA; History) whose projects were awarded funding through the Social Sciences and Humanities Research Council's (SSHRC) Partnership Development, Partnership Grants, and Insight Grants.
A total of 44 projects led by UBC researchers have been awarded combined funding of $9.7 million. For SPPGA scholars, this funding will support research and partnerships that address sustainability challenges, extrajudicial detentions in China, decolonizing world news, and digital governance in Canada.
SSHRC Partnership Development Grants provides support to teams who are working in a formal partnership and are intended to either develop research and related activities in the social sciences and humanities, or to design and test new partnership approaches for research and related activities that may result in best practices or models that can be adapted by others. SSHRC Partnership Grants support formal partnerships between academic researchers, businesses, and other partners that advance knowledge and understanding on critical issues of intellectual, social, economic, and cultural significance. SSHRC Insight Grants aim to build knowledge and understanding about people, societies and the world by supporting research excellence in all subject areas eligible for SSHRC funding.
We look forward to seeing the impact our professors will make due to this funding. You can read more about their projects below: