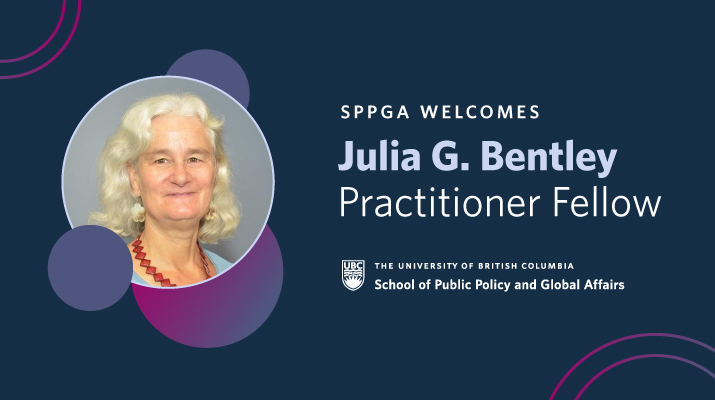 SPPGA is pleased to introduce policy practitioner fellow Julia G. Bentley. A career diplomat whose work has focused chiefly on Asia, she has held a variety of senior positions at Global Affairs Canada—most recently as Canada's High Commissioner in Malaysia. Read Julia's bio here. 
We caught up with Julia to ask her a little bit about her career and what she's looking forward to as SPPGA's newest policy practitioner fellow:
What has been a meaningful moment in your career that underscores the need for good public policy?
My career in international relations has at various times intersected with the academic world, and I have often found these rewarding in terms of demonstrating the value of sound public policy.
One example relates to working on human security, at a time when this was a major thrust in Canadian foreign policy. I developed an initiative seeking greater engagement among policymakers, the academic community and civil society practitioners in order to stimulate cross-fertilization and partnerships in policy research, advocacy and implementation related to human security.
I was responsible for structuring a program to advance specific foreign policy objectives, seeking policy approval and funding for it, calling for proposals to create an academic network on human security, screening competitive bids according to predetermined criteria, and launching the pilot phase while waiting for the consortium to assume its full responsibilities.
Under this initiative, the Canadian Consortium on Human Security was established to implement this program at arms length, including managing a fellowship program, and holding an annual colloquium on human security. The first cohort of annual human security fellowships addressed intervention in cases of overwhelming humanitarian consequence, monitoring human security, and gender dimensions of peace-keeping.
Despite the complexity of the initiative due to the demand for innovation and the novelty of human security as a policy focus at the time, I found this experience rewarding, because the results were valued as a mechanism for fostering policy research and dialogue among government, academic and civil society representatives.
What are you most looking forward to engaging in as an SPPGA Policy Practitioner Fellow?
I am most looking forward to engaging with students of global affairs inside and outside the classroom, providing mentorship and contributing to Global Policy Projects as appropriate. I know there is great interest among young people in international careers and the foreign service, and would like to contribute practical insights based on my experience in international affairs at both the federal and provincial levels. Perhaps I can also help demystify some of the misconceptions that are prevalent about the demands and rewards of being a diplomat, both professional and personal.
I understand that the School of Public Policy and Global Affairs is developing a Global Affairs Professionalization stream, and I am interested in contributing to this, for example related to structuring learning modules and simulations.
Whether working in Canada or abroad, the working life of foreign service officers is often consumed by fast-paced demands and the transactional nature of being a public servant; we rarely have time to research specific issues in depth, debate with academics and reflect on how such issues fit into a broader analytical framework. The SPPGA practitioner fellowship provides a rare opportunity to take a step back from the role of public servant and consider how best to combine the expertise derived from practical field experience in foreign policy with the knowledge of leading academics. While my academic degrees and a significant part of my working life relate to East Asia (with a major focus on China), the issues on which I have been working recently relate to Canada's engagement in Southeast Asia and China's influence there, including through the Belt and Road Initiative. Canada's recently announced Indo-Pacific Strategy provides an excellent backdrop for me as an SPPGA practitioner to find out what UBC faculty and students think about the strategy and how they would like to see it implemented.