In this alumni spotlight, we hear from Darren Touch, a UBC Master of Public Policy and Global Affairs alumnus, regarding how his experiences as a Schwarzman Scholar at Tsinghua University in China have impacted him.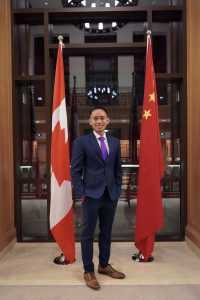 "The last five months studying at Tsinghua University as a Schwarzman Scholar has been a transformative experience for me. The Schwarzman Scholars Program has given me a unique perspective into China through both the academic curricula and the immersion of living in China. As China continues to play an influential role within global affairs, it will be fundamental for future global leaders, policymakers and thought-leaders to gain knowledge and experience in China. The skillset I am currently developing at Schwarzman College will be essential in helping me bridge the barriers between Canada and China to address the global challenges of the 21st century collectively.
The World University Rankings ranked Tsinghua University as the 1st Asian University in 2019, and 23rd in 2020 – putting the university ahead of the London School of Economics and Political Science (#27), McGill University (#42), and even the University of British Columbia (#34). Established in 1911, Tsinghua is one of China's most prestigious universities known for its academic excellence and international partnerships. The university has had a long history as serving as a bridge between East and West since its inception. Notable alums from the university include some of China's most prominent leaders, including President Xi Jinping, former President Hu Jintao and former Premier Zhu Rongji. Studying at Tsinghua University, I have encountered some of the brightest minds in China, who are not only academically-driven but are also active through sports, clubs and community events.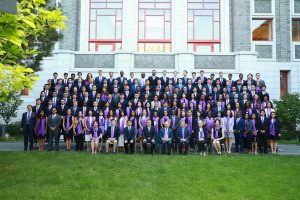 Schwarzman College has had an enormous impact on me – personally, professionally, and intellectually. It is a community that seeks to empower you. Living and studying at the College, I am surrounded by 139 Scholars from 38 countries who bring their unique perspectives and experiences to complex global issues. We are challenged to think with a collective mindset. Each interaction I've had, I am left with a deeper understanding of any given issue. However, more importantly, I have developed life-long friendships.
The courses at Schwarzman College are designed to sharpen our leadership abilities and deepen our knowledge of China and global affairs. In addition to the academic rigour, I have had the fortunate opportunity to learn from some of the world's leading thought-leaders and practitioners in the public, private and non-government sectors, such as Stephen A. Schwarzman, Chairman, CEO and Co-founder of Blackstone; Zhang Xin, Co-Founder and CEO of SOHO China; and Ngaire Woods, Founding Dean of the Blavatnik School of Government, University of Oxford. Not only do these thought-leaders share their professional experiences and insights on global affairs, but they share their thoughts on leadership. Each has reinforced the importance of being students of leadership.
Time has passed quickly at Schwarzman, but I look forward to the remaining few months in the program."
If you are interested in the Schwarzman Scholars Program, please click here.
Darren Touch | Schwarzman Scholar 2020
Schwarzman Scholars at Tsinghua University, Beijing, China 100084
北京市清华大学苏世民书院 100084
http://www.sc.tsinghua.edu.cn/ | http://schwarzmanscholars.org/
Twitter: Darren_Touch