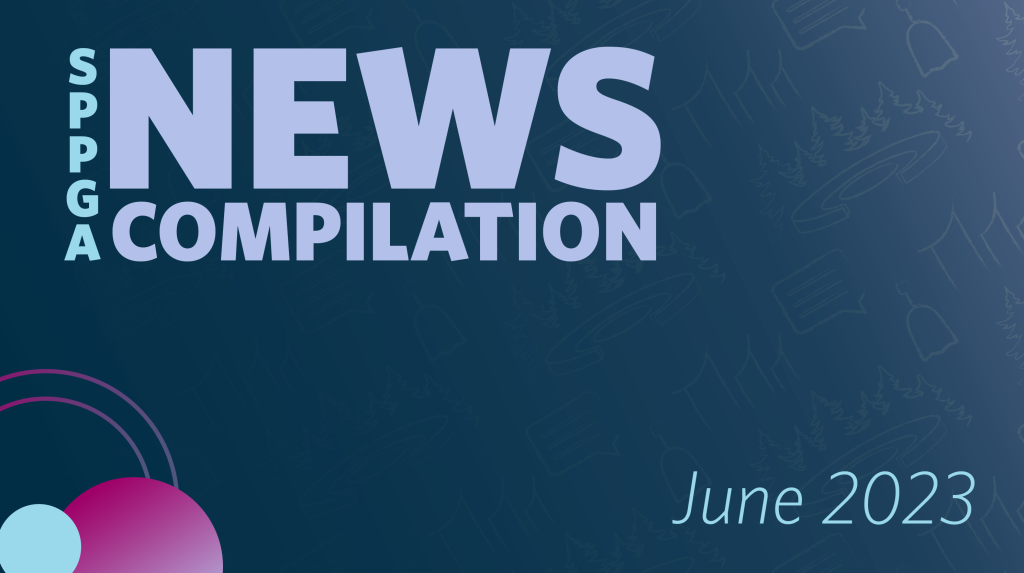 June 2, 2023
Carbon-free promise or cautionary tale? Georgia's new reactors come online to fanfare, criticism
SPPGA Prof. M.V. Ramana says America's latest climate-saving reactor Plant Vogtle promises a dubious reality. via WABE
June 5, 2023
How geopolitics could affect Brics countries' commerce and economic relations
SPPGA Associate Prof. Kristen Hopewell's book Clash of Powers: US-China Rivalry in Global Trade Governance offers insights on discussions of agricultural trade and subsidy negotiations between US and China. Via Business Day
June 6, 2023
Finland's nuclear catacombs nearly ready to house waste
SPPGA Prof. Allison Macfarlane comments on the Onkalo repository and how it demonstrates that the technical challenges surrounding nuclear waste disposal can be surmounted. Via France 24
June 12, 2023
Meet 'Collec'Thor': Richmond's new tool to clean up the Fraser River
To promote environmental stewardship in B.C., the City of Richmond unveils its newest project, which Prof. Rashid Sumaila (SPPGA, Institute of Oceans and Fisheries) says is key in the pursuit of marine health. via CityNews
June 13, 2023
Harmful fisheries subsidies: Progress on "pivotal" WTO agreement disappoints one year on
Prof. Rashid Sumaila (SPPGA, UBC Institute for the Oceans and Fisheries) remarks that the first WTO agreement to prioritize sustainability over trade is a meaningful yet basic foray in saving the world's marine ecosystem. via Economist Impact
June 16, 2023
Ukraine hopes to rejuvenate its oil and gas sector – and wants Canada to help 
With Ukraine hoping to gain energy independence from Russia, it seeks a potential investor in Canada – but Prof. Philippe Le Billon says economic and political risks are imminent. via CBC
June 18, 2023
India's Vibrant New Relationship with the US — Political, Economic & Military – InDepth News
India's Vibrant New Relationship with the US — Political, Economic & Military– CNX Today
US-India relations are evolving, but according to Prof. M.V. Ramana, America's other agendas could implicate a variety of motivations for partnership with the world's largest democracy. via In Depth News, CNX Today
June 19, 2023
The process engineer: Nadja Kunz, Canada research chair in mine water management and stewardship
SPPGA Assoc. Prof. Nadja Kunz is featured in this article, where she maps out her journey as a mining engineer who simultaneously prioritizes sustainability and operational goals. via Canadian Institute of Mining (CIM) Magazine
June 19, 2023
Malaysia's Democracy in the Shadow of Hegemonic Rule
Can Prime Minister Anwar Ibrahim effect progressive political change despite Malaysia's deep-rooted history of hegemonic rule? Associate Professor Kai Ostwald comments.
June 20, 2023
Not just words: How reputational attacks harm journalists and undermine press freedom
With 68% of surveyed journalists reporting reputational attacks monthly, safety of freedom of speech is not always guaranteed. SPPGA's Assistant Director of the CSDI and Research Associate Chris Tenove leads this new report outlining findings and impacts of reputational attacks within journalism.
June 22, 2023
Governing in the Shadow of UMNO's long rule: Anwar Ibrahim's Formula and Prospects for Reform: Webinar 
In this online webinar, Associate Professor Kai Ostwald discusses the extent of how Malaysia's rigid political history impacts current Prime Minister Ibrahim's reformative agenda. via ISEAS
June 26, 2023
Where can the U.S. put 88,000 tons of nuclear waste?
UBC's renowned Prof. on nuclear waste management and SPPGA Director Allison Macfarlane, discusses the pressing question of where the U.S. can safely store 88,000 tons of nuclear waste in an insightful interview featured in WHYY's news piece.
June 26, 2023
Nuclear energy a no-go in B.C., premier says
Prof. M.V. Ramana weighs in on conflicting stances surrounding the need for nuclear energy in B.C., dissecting political incentives and economic feasibility. via Politics Today
June 28, 2023
Harassment is routine for doctors, scientists on social media
With the COVID-19 pandemic fuelling online threats and harassment of doctors, scientists and health professionals, Prof. Heidi Tworek (SPPGA, UBC History) says the future of the healthcare industry could be facing a decline of involvement from all parties.
June 28, 2023
Stealing vs. going to war. Why Russian corruption is not an obstacle to war but rather its cause
Military corruption has often bred the assumption of an undermined state, but Prof. Philippe Le Billon notes that it is instead an instigator of war. via The Insider
June 28, 2023
Hua Guofeng's short-lived reign as chairman and leader of China
As China's chairman Hua Guofeng's five-year leadership comes to an end, Prof. Timothy Cheek comments on his lackluster reputation in the wake of influential leader Mao Zedong. via The China Project
June 28, 2023
'Mine for evermore' to fuel clean energy transition
Assistant Prof. Nadja Kunz notes that water quality management could be crucial for the future of mining, but difficult to quantify, at Brisbane's World Mining Congress. via Perth News
June 29, 2023
Canadian academics tout steps to develop relations
Canadian scholars laud closer Taiwan ties after Indo-Pacific strategy release
Adjunct professor Vina Nadjibulla pays Taiwan a visit on behalf of Canada, in an exchange of learning between the two countries with "complementary economies". via Taipei Times
June 29, 2023
Fair Seas Estimates Cost of Ireland Fulfilling Marine Protected Areas 2030 Target at 55 Million Euro
In order to protect more of the world's oceans, the Fair Seas organization has published a report on government measures needed to take to save marine ecosystems. Prof. Rashid Sumaila (SPPGA, UBC Oceans) is a co-reviewer of the report. via Afloat Magazine
June 29, 2023
Canada and U.S. cooperation needed to solve our wildfire crisis
Adj. Prof. Robin Gregory (IRES) co-writes article for The Globe and Mail on Canada and U.S. cooperation in resolving our wildfire crisis.