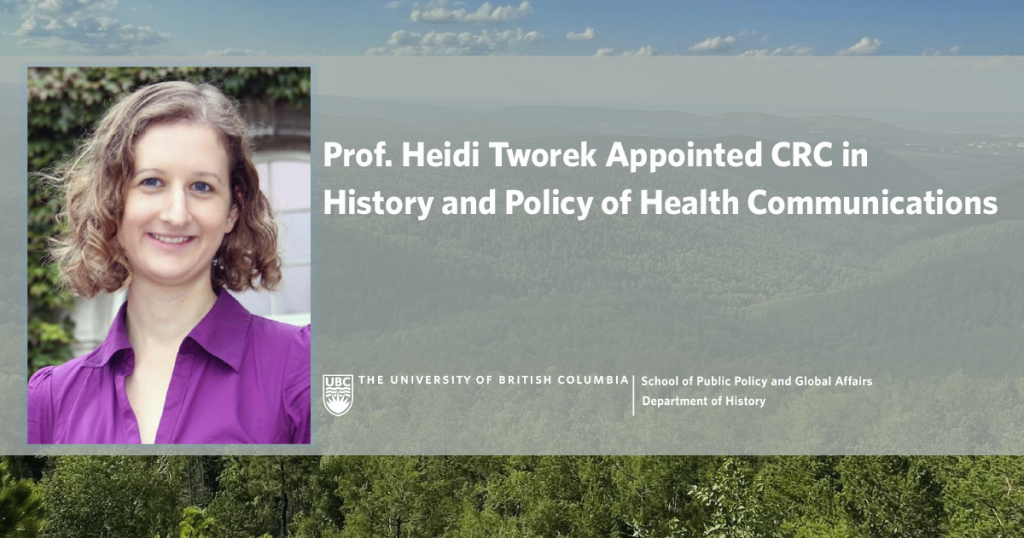 Dr. Heidi Tworek, Associate Professor in the School of Public Policy and Global Affairs and Department of History in the Faculty of Arts at the University of British Columbia, has been appointed as a Tier 2 Canada Research Chair in History and Policy of Health Communications. The appointment comes as part of the Government of Canada's announcement that the Canada Research Chairs (CRC) Program is investing more than $151 million to support 188 new and renewed Canada Research Chairs at 43 institutions.
Dr. Heidi Tworek is examining the history and policy of international health communications, particularly during epidemics. Tworek and her research team are building an interdisciplinary scholarly network around health communications and using the latest techniques in big data research to understand how previous epidemics were communicated. Ultimately, they will make concrete recommendations for improving health outcomes in Canada and abroad.
Dr. Tworek has also received funding for her "Communicable Disease: An Interdisciplinary History" project from the Canada Foundation for Innovation's John R. Evans Leaders Fund (JELF). Funding provided through the JELF helps institutions such as UBC to recruit and retain outstanding researchers, acquire the tools that enable the innovative work of leading researchers and offer research support that, when combined with research support from our partner organizations, is highly competitive. Dr. Tworek is being recognized as an outstanding leader engaged in research that is innovative, high quality, and meets international standards.
Dr. Tworek said: "I'm tremendously honoured to receive this appointment to continue my interdisciplinary work on one of the most pressing questions of our time. I started to study the history and policy of health communications long before the COVID-19 pandemic. That work has only become more urgent in the last two years. I look forward to using this CRC to research issues including how health communications worked during pandemics of the past, how to address online abuse of health communicators, and how to improve contemporary policy. As the current pandemic has made all too clear, communications matter and we need far more research into how to improve them."
The CRC Program enables UBC to achieve the highest levels of research excellence while chairholders improve our depth of knowledge and quality of life, strengthen Canada's international competitiveness, and help train the next generation of highly skilled people through student supervision, teaching and the coordination of other researchers' work. The CRC Program continues to provide opportunities for researchers to excel in their fields, and build teams of experts at Canadian institutions.
SPPGA Assistant Professor Tara Cookson was also appointed as as a CRC this year, for her work on gender, development, and global public policy. SPPGA Director Allison Macfarlane stated: "I'm deeply impressed by the quality of research of our two newest CRC chairs, Heidi Tworek and Tara Cookson. Both work on essential topics relevant to our time, Heidi on history and policy of health communications, especially relevant in our pandemic times, and Tara in gender, development, and global public policy, also essential to understand for the health of the planet. We are proud to host these two remarkable scholars."