During our Spotlight on MPPGA Alumni Careers series, meet the UBC Master of Public Policy and Global Affairs (MPPGA) alumni who are committed to addressing the pressing and complex public policy challenges facing the world.
Today, we are featuring Alfonso Hernandez ('19) who is originally from Mexico and now lives in Santiago, Chile. During his time in MPPGA program, Alfonso pursued the Resources, Energy and Sustainability stream. Post-graduation, Alfonso is now working as a Public Management Consultant with the UN Economic Commission for Latin America and the Caribbean.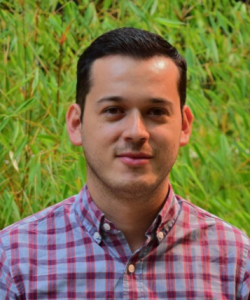 What were your primary interests while studying in the MPPGA program?
My primary interests while studying in the MPPGA program were courses related to renewable energy, climate change, sustainable development and economics.
Which opportunities did you participate in during the MPPGA program that contributed to your career journey?  
The MPPGA gave me the opportunity to participate in multiple enriching experiences. In the second term of the first year, I gained a Work-Learn position at the Canadian International Resources and Development Institute (CIRDI), where I contributed to the implementation of the monitoring strategy for CIRDI's projects. I also participated in interesting research tasks that allowed me to learn about artisanal gold mining in more than 10 different countries where CIRDI was implementing projects. After two months at CIRDI, I was awarded the UBC – Southwest University of Politics and Law (SWUPL) Fellowship to attend a course taught by Prof. Yves Tiberghien and other SWUPL professor in Chongqing, China. When I was in China, I was informed that I was selected for the Inter-American Development Bank 2018 Summer Internship.
In June, after the Chongqing course, I traveled to Washington, DC for two months to intern at the IDB. During the internship I worked as General Operations Analyst at the Southern Cone Country Department. This was a unique opportunity to apply everything I had learned so far from the MPPGA, CIRDI and my life-changing experience in China.
Once back in Vancouver, I went back to work at CIRDI, where I worked until the end of the MPPGA (July 2019). At CIRDI, I had the opportunity to apply what I learned from the MPPGA, to projects that aimed to strengthen government institutions and improve the working conditions of artisanal gold miners in many countries (Kenya, Ethiopia, Colombia, Ecuador, Ghana, Indonesia, Peru, Dominican Republic, Argentina). In every country, CIRDI had a different approach, and this made my work even more interesting and challenging every day.
The MPPGA's Global Policy Project gave me the second opportunity to work for a multilateral development bank, but this time in Asia for the Asian Infrastructure Investment Bank (AIIB). As part of a team, we were looking at a very interesting topic, that in many cases is analyzed superficially or just ignored – the client asked our team to advise the AIIB on analytical tools that could help the bank to analyze the gender dynamics in the communities where the bank lends money to governments for infrastructure projects. The aim of the bank was to identify gender gaps, and incorporate the findings in the projects' designs, so that the new infrastructure responds to the needs of the community and contributes in some extend to close the gender gaps found. We did extensive desk research before traveling to the corporate building in Beijing and then to Gujarat, India to multiple villages where a large rural roads project was taking place.
The MPPGA gave me multiple opportunities and equipped me to participate in life changing experiences that were far beyond the expectations I had when I started the program in September 2017.
What job titles have you held since graduation?
Energy Economics Consultant for the Interamerican Development Bank
Public Management Consultant at the Latin American and Caribbean Institute for Economic and Social Planning (ILPES) – UN Economic Commission for Latin America and the Caribbean (UN ECLAC)
What are your main responsibilities in your current position?
At ILPES – ECLAC as a Public Management Consultant, my main responsibilities are qualitative and quantitative data collection and analysis, writing policy briefs, and contribute to the development of a new website that will showcase the main characteristics of the National Public Investment Systems (Public Management Systems) from 16 countries members of the National Public Investment Systems Network (Red SNIP in Spanish). I started working in this project as an intern, and after two months I was hired as a consultant. The other part of my job is to look for best practices in public investment around the world, as well as research papers that look at the benefits that better planning, selection, implementation and evaluation of public investment projects could bring to social and economic sustainable development.
What makes you proud about your current job? How does it relate to your MPPGA degree?

I think that my current work can contribute to inform public officials on good public management practices that could improve how governments invest in public infrastructure. This is now even more relevant because after COVID, the government budget available is even scarcer than before. So, investing more efficiently is crucial to overcome the challenges that COVID had brought to governments and the society. The MPPGA definitely influenced how I can contribute to my work today, throughout what I learned in the courses, from my classmates, conversations with professors, and the working experiences I had while studying at UBC. I learned to incorporate approaches for sustainable infrastructure, renewable energy, gender-based analysis, and climate change resiliency and adaptation.
How do you influence change or hope to influence change in your professional and/or personal life?
While still in my early career stage, I continue to learn from the professionals I work with, and I share my thoughts during discussions. I often bring to conversations the best practices that I learned or observed while in the MPPGA. As I continue to develop my professional career, I hope to influence change that improves the way public infrastructure and services are delivered the society by governments, NGOs and private sector, promoting inform discussions to adopt clean energy solutions, infrastructure that respects the environment, and delivery of public services that contribute to improve social wellbeing.
What career advice would you give to MPPGA students and alumni?
The advice that I give to students is to participle in the multiple opportunities that the MPPGA and UBC offer outside the classroom, such as conferences, work and learn positions, Co-op, courses abroad, and internships in Canada or in other countries. Try to learn from professionals that are already working in the field you want to work, once you graduate, and have conversations with your professors – there is a lot you can learn from them outside the courses.

Thank you, Alfonso!