During our Spotlight on MPPGA Alumni Careers series, meet the UBC Master of Public Policy and Global Affairs alumni who are committed to addressing the pressing and complex public policy challenges facing the world.
This week, we are featuring Lauren Hamman ('18) who is originally from Sydney, Australia and now lives in Victoria, B.C. During her time in MPPGA program, Lauren pursued the Development and Social Change stream. She is now working as an Intergovernmental Relations Advisor in the Intergovernmental Relations Secretariat, Office of the Premier, Government of British Columbia.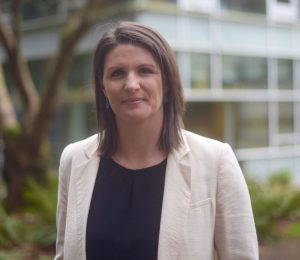 What were your primary interests while studying in the MPPGA program?
My underlying motivation in applying to the MPPGA program was to broaden my skill set in international relations. I always maintained an interest in global affairs since studying political science in my undergraduate years. Having travelled the world following graduation from my undergraduate degrees, I developed more of an interest in international institutions and effecting social change. This was particularly so in developing countries, as I spent some time working and travelling in the Philippines in a previous job.
During the MPPGA, I focussed my study on social impact and development through courses such as Corporate Social Responsibility and Economics of Poverty. I took a particular interest in the Asia-Pacific region and completed courses in Religion, Nationalism and Ethnic Conflicts in Asia, and Asia Diplomacy and International Relations. These courses helped me form a foundation in Asia relations and to develop my policy-related skills in social change.
Which opportunities did you participate in during the MPPGA program that contributed to your career journey?
There were many useful opportunities I participated in during the MPPGA but probably the most valuable one was the Global Policy Project. I, along with two other members of the MPPGA program, completed a project working with the International Cooperative Alliance based in New Delhi, India. The focus of our work was the sustainability of the co-operative model in India. Reporting to a real-life client helped us to develop our skills in client-based work and taught us how to manage our time and meet deadlines in a challenging, complex policy environment.
Working for an overseas client helped us to appreciate and understand the diversity and complexity of global policy issues and helped us to develop our skills in a multi-disciplinary policy environment. This experience has been invaluable for me now, working in a diverse environment and reporting to high-level government officials in the British Columbian government, advising on complex global policy issues.
What are your main responsibilities in your current position?
I currently work as an Intergovernmental Relations Advisor in the Government of British Columbia. I am part of a small policy team that focuses their work across three areas: international relations, federal-provincial relations and U.S. relations. I work mostly in the areas of international and federal-provincial relations and I generally provide research and advice on issues of intergovernmental significance. Being a generalist policy position, the role is quite varied and touches on a number of different policy areas including trade, tourism, education, agriculture, climate, etc. The role also involves some liaison with other parts of government, including other Ministries in the B.C. government, or other governments, including the Canadian government.
What makes you proud about your current job? How does it relate to your MPPGA degree?
I feel very fortunate to have a position which allows me to utilise my learnings from the MPPGA degree on a daily basis. Not only do I rely on my policy skills in writing briefs and providing advice, I also rely on my ability to think about problems from a broader perspective and offer different, innovative solutions. The courses I took in the Policy Process and Policy Analysis helped me to develop new ways of thinking about problems and proposing new solutions. Working in international policy, particularly within a sub-national government environment, is a very unique experience, and one that I feel fortunate to be working in. As foreign relations is the purview of the federal government, much of the work related to international relations in the B.C. government is about understanding the dynamic of B.C. / Canada relations. The MPPGA helped me to formulate a background understanding of this dynamic, one which I have cultivated more during my time at the Intergovernmental Relations Secretariat.     
How do you influence change or hope to influence change in your professional and/or personal life?
One of the best things about working in a smaller policy team is that you have exposure to a wider range of policy issues. Because our policy team is quite small, yet diverse, each person is able to make an impact through the issues that they work on. Another advantage of working in a small policy team is that the organisational hierarchy is relatively flat, meaning that there is greater exposure to working with government decision makers. Having this exposure allows greater opportunity to work with and learn from higher level people with a wealth of policy experience.
What career advice would you give to MPPGA students and alumni?
One of the best things about the MPPGA is that it allows you a breadth of opportunity to try different things and explore different policy topics. I would encourage students to indulge in as many activities and courses as possible and experiment with different ideas and ways of doing things. University is the best time to do this because you have a safe space within which to learn and make mistakes. You don't need to be a specialist in anything at University, the time is for experimenting and trying different things to see what may stick and what you may want to pursue afterwards. For alumni, my best advice is to keep up the networks. Networks are helpful for job seeking, yes, but they are also helpful for continual learning and growing in your career. You never know where a network may lead!
Thank you Lauren!