During our Spotlight on MPPGA Alumni Careers series, meet the UBC Master of Public Policy and Global Affairs (MPPGA) alumni who are committed to addressing the urgent and complex public policy challenges facing the world.
Today, we are featuring Talia Ahmad ('17) who works as a Planning and Projects Associate with Richmond Fire-Rescue for the City of Richmond, B.C., Canada. Talia's hometowns are Delta, BC and Lahore, Pakistan. During her time in MPPGA program, Talia pursued the Development and Social Change stream.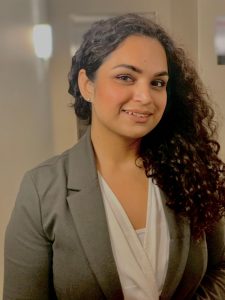 What were your primary interests while studying in the MPPGA program?
It was my passion and commitment for fostering positive change for the continuous development of a more inclusive, just and tolerant world that brought me to the MPPGA program. I wanted to build my own awareness of the guiding principles behind sustainable development and to build the skills that would allow me to translate my passion into action. I pursued the Development and Social Change stream to enhance my understanding of the analytical conceptions and practical tools to lead development work in a diverse range of settings.
Which opportunities did you participate in during the MPPGA program that contributed to your career journey?
The MPPGA Co-op program truly accelerated my career journey by allowing me to work in a local government setting in the capacity of a community researcher. My Co-op allowed me to showcase my capacity to independently lead in a professional capacity and to articulate my ideas to a diverse range of stakeholders. I built an understanding of how to navigate bureaucracy and build consensus around policy issues that held relevance for community members and for myself.
Secondly the Global Policy Project (GP2) was a worthwhile experience exposing me to the depth of development work taken place around the world. Through GP2 I gained a deeper understanding of the interconnection of the UN Sustainable Development Goals. I developed confidence in my stakeholder engagement skills as not only did I have the opportunity to independently lead a stakeholder engagement in a global context, but I also translated my learnings back to my team at UBC. The professional development experiences offered through the MPPGA program cultivated the skills and confidence I needed to establish a strong foundation for my career journey.
What is your current position and main responsibilities?
Currently I serve in the capacity of Projects and Planning Associate for Richmond Fire-Rescue at the City of Richmond. I am leading the development of a three year Prevention Strategy to guide the delivery of prevention based services in Richmond. In my role, I bring together the principles of strategic planning, stakeholder engagement and human-centered design to align programs and services to the needs of the community.
What makes you proud about your current job? How does it relate to your MPPGA degree?

I feel incredibly proud to lead and support the organizational transformation of my teams as we work together to achieve strategic outcomes that had stagnated for years due to resources constraints. I bring my learnings from the MPPGA program that allowed me to build an understanding of the global trends in innovative policy development and delivery. In each of my teams, I bring a fresh pair of ideas and a lens of inclusive and sustainable growth that enhances project outcomes for the collective teams and the community we serve.
How do you influence change or hope to influence change in your professional and/or personal life?
My values and belief in sustainable development serve as my stewards in my career journey. I remain committed to my goal of fostering positive change in the world. Through my practical experience, I have come to realize that we all have the capacity to make change within our own spheres of influence that can be catalyzed into greater societal action.
One of the key ways I do this is through being empathetic and listening to the voices of those who are marginalized from the policy discourse. The more I work with community groups, the more I realize the resilience and innovation of marginalized communities. Effective policy making must be tailored to the needs and made in conjunction with the beneficiaries of the policy. They must be empowered with the tools to hold policymakers accountable and to lead the conversation.
What career advice would you give to MPPGA students and alumni?

It is extremely important to know what your purpose is and what drives you to do the work you pursue. The struggles and journey will become a lot more enjoyable if you know this.
Secondly, it is important to seek out examples of people who you respect and who are doing the work that intrigues you. Reach out to them with a genuine interest in learning about their journey and seeking their guidance.
Lastly, it is extremely important to remain humble and compassionate towards every opportunity and person that you encounter on your path.
Thank you Talia!