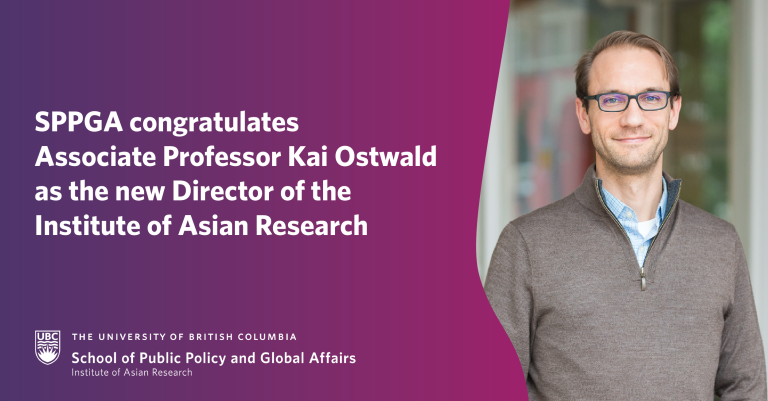 The School of Public Policy and Global Affairs acknowledges the outstanding contributions of Professor Timothy Cheek as he completes his 3-year term as the Director of the Institute of Asian Research (IAR), a founding partner of the school.
Prof. Cheek has a long history with the IAR, having taught in the IAR's former Asian policy program and is now teaching a course on policy in context along with seminars on Chinese and Asian intellectuals and public policy in the Master of Public Policy and Global Affairs (MPPGA) program. With a dual appointment with UBC History, Prof. Cheek's research, teaching and translating focus has revolved around the recent history of China, especially the role of Chinese intellectuals in the twentieth century and the history of the Chinese Communist Party. Prof. Cheek will continue his teaching in SPPGA and History, as well as his graduate supervisions and research projects on "Revisiting the Revolution" and the Xinjiang Documentation Project.
Starting July 1, 2021, Associate Professor Kai Ostwald, who is jointly appointed with UBC Political Science, steps into the role of IAR Director. For the past few years, Prof. Ostwald has served as the Director of the Centre for Southeast Asian Research (CSEAR) at the IAR. He has regularly taught Measurement and Data Analysis for Policy in the MPPGA program. Dr. Ostwald's work is broadly focused on development, public policy, and ethnic politics, with a strong focus on Southeast Asia, particularly Malaysia, Singapore, Indonesia, and Myanmar. Over the past four years, he has led on the "Emerging Myanmar Initiative" at the IAR, a capacity development program at the Yangon University of Economics and the University of Yangon in Myanmar.
"I would like to congratulate Associate Professor Kai Ostwald on beginning this position and am very much looking forward to working with him to continue making the IAR a world-renowned research hub for Asia policy and international affairs. I would also like to extend a sincere thank you to Professor Tim Cheek for his years of service as the IAR Director and for working to reimagine the IAR and integrate it better with the SPPGA. Tim's work has made the IAR what it is today."
– Allison Macfarlane, Director, School of Public Policy and Global Affairs