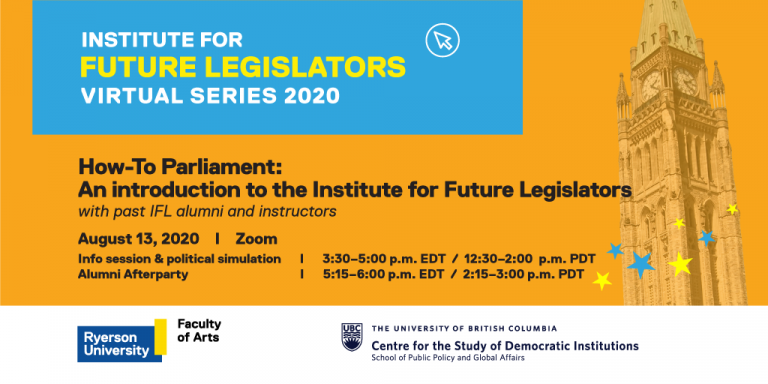 Join us for an engaging and interactive session that brings together Institute for Future Legislators alumni and anyone interested in learning more about the program.
Past IFL alumni and instructors will share insights from their time in the program, how they've put their training practice since the institute, and advice for anyone interested in the program or politics in general. Participants will then get a chance to participate in one of our signature IFL political simulations, where they will experience first-hand some of the challenges, trade-offs, and opportunities that come along with public office.
Find the video recording below:
Agenda:
12:30 p.m. PDT / 3:30 p.m. EDT – Welcome and Introductions
12:35 p.m. PDT / 3:35 p.m. EDT – Overview of the Institute for Future Legislators
12:45 p.m. PDT / 3:45 p.m. EDT – Panel of IFL Alumni with Q&A
1:15 p.m. PDT / 4:15 p.m. EDT – Minister's Inbox Simulation
1:45 p.m. PDT / 4:45 p.m. EDT – Debrief and Closing
ABOUT THE SERIES:
This is the final session of the IFL Virtual Series, co-presented by UBC's Centre for the Study of Democratic Institutions at the School of Public Policy and Global Affairs and the Faculty of Arts at Ryerson University. The IFL Virtual Series brings together political practitioners from the Institute for Future Legislators to share their insights, experience and expertise. Please see the virtual series page for more information.