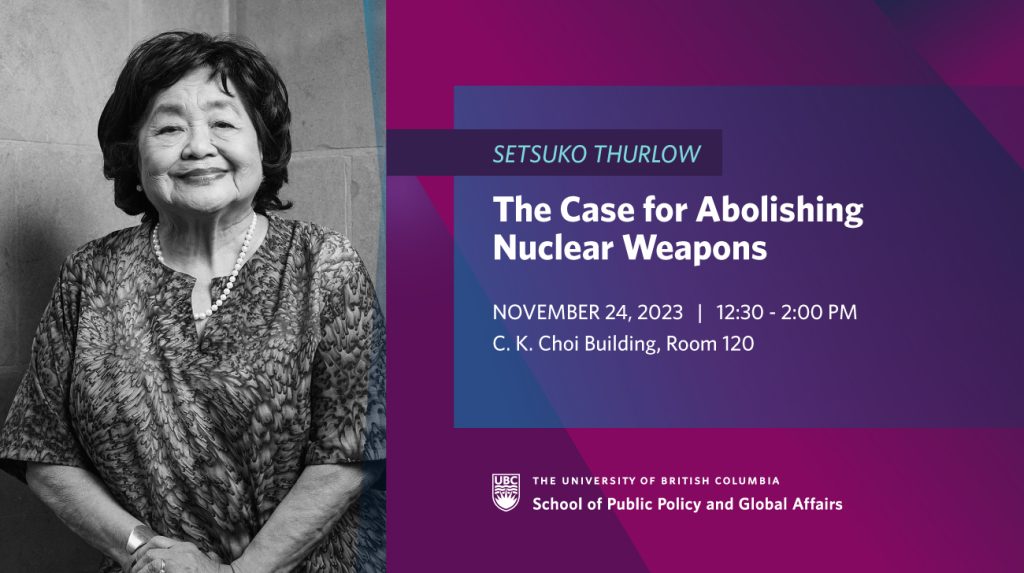 Setsuko Thurlow: The Case for Abolishing Nuclear Weapons
2017 Nobel Peace Prize Winner and 2023 Honorary Degree Recipient
Date: November 24th
Time: 12:30 PM – 2 PM
Location: C.K. Choi Building, Room 120
A light lunch will be served.
Setsuko Thurlow: The Case for Abolishing Nuclear Weapons
Join us for a special conversation on Friday, Nov. 24th with Nobel Peace Prize winner Setsuko Thurlow, who will be receiving an Honorary Degree from UBC this month. Setsuko Thurlow is a survivor of the atom bomb dropped on the city of Hiroshima by the United States in 1945 who has committed herself to testifying about "that terrible dawn of the nuclear age" and working towards prohibiting and eliminating nuclear weapons. RSVP today to learn more about her and the urgent message she brings.
Biography
A survivor of the 1945 Hiroshima atomic bombing, Setsuko Thurlow's commitment to anti-nuclear advocacy began in 1954 when she voiced her opposition to tests of even more powerful hydrogen bombs by the U.S. in the Marshall Islands. Highlights of her long career include testifying widely before world leaders on behalf of the International Campaign to Abolish Nuclear Weapons in support of the Treaty on the Prohibition of Nuclear Weapons. She also served as a social worker in a number of Toronto-based agencies and led the establishment of the Japanese Family Services of Metropolitan Toronto.