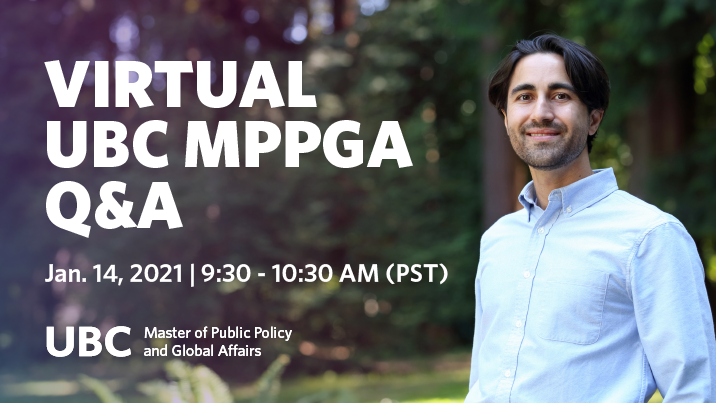 Join us for our final virtual info session hosted by the professional Master of Public Policy and Global Affairs (MPPGA) program at the School of Public Policy and Global Affairs, University of British Columbia in Vancouver, Canada.
Looking to join the Fall 2021 cohort but still have questions about the program or completing your application? Don't miss this virtual Q&A Info Session for the opportunity to ask your final questions before the application deadline.
Applications close on January 21, 2021.
UBC is consistently ranked as the number one university in the world for taking urgent action to combat climate change, while SPPGA faculty are renowned for their research and expertise in sustainability and the Asia Pacific. Tailor your learning to your interests and gain critical skills and a global perspective to help you to address complex public policy challenges and drive meaningful change.
Join our Master of Public Policy and Global Affairs program and study with change makers from around the world.
Please RSVP. The Zoom webinar information will be sent to registrants by email ahead of the event.
Presenters:
Julia Park, Program Manager, Master of Public Policy and Global Affairs, UBC
Hui Jia, Program Coordinator, Master of Public Policy and Global Affairs, UBC
Previous Virtual Info Sessions:
Hosted by: