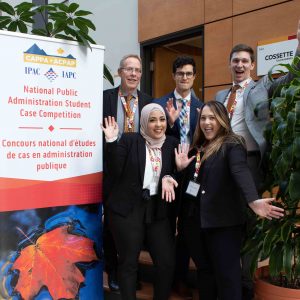 UBC Master of Public Policy and Global Affairs (MPPGA) students recently competed in the 9th Annual CAPPA National Public Administration Case Competition in Quebec City. Held over reading week, four students Nabila Farid, Gavin Davies, Clinton Mix and Claudia Kobetitch spent their break preparing for the competition held between leading public policy schools across the country.
In the competition, teams were challenged to work on a case that addressed the Housing Affordability Crisis in British Columbia, given just one week to prepare for their policy presentation before judges. The team consulted local housing experts around UBC, including SPPGA Policy Practitioner Fellow Andrea Reimer, to explore a wide range of policy options. The students were coached by SPPGA Professor George Hoberg, who provided practice cases and feedback to help the team prepare for the competition.
While the team was not placed in the top three in the competition, they were praised for their extensive policy knowledge and wide range of policy options presented.
"It was great to see how other schools interpreted the exact same case based on the region. It helps validate your process and see what works. We had the right approach, but just had to refine it and make it more streamlined."
Gavin Davies
MPPGA 1st Year student
The students were selected to represent SPPGA after winning an internal case contest held in the school. Opportunities for students to practice policy-making skills in a competitive environment are encouraged by SPPGA: students are coached through the process by SPPGA Professors and competition costs are paid for by the school.
"Through this experience, I enhanced my research, analytical and collaboration skills. We communicated effectively and met every single day to pitch ideas and receive feedback from policy experts. I also relied heavily on content from my MPPGA classes to understand the case and apply it to the policy cycle process."
Nabila Farid
MPPGA 1st Year student
Find out more about MPPGA student participation in other conferences and competitions on Experiential Learning.