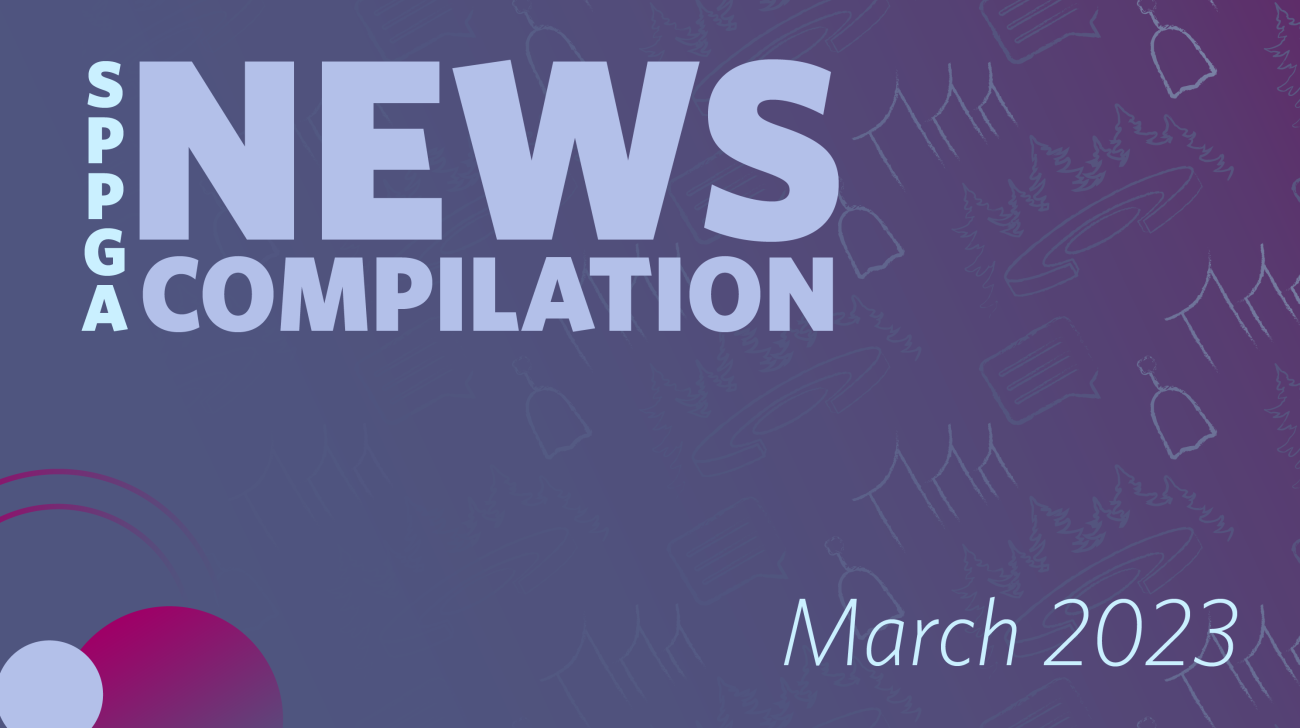 SPPGA in the news: What does TikTok know about you?
March 1, 2023
What does TikTok know about you? What should you know about it?
Prof. Heidi Tworek (SPPGA; UBC History) noted that most people are not going to read the dozens of pages of TikTok's terms of service. via CBC News
March 6, 2023
Dr. Safiya Noble talks algorithmic bias and the future of technology
Guest speaker and acclaimed scholar Safiya Noble joined the Phil Lind Initiative to share her expertise on the intersection between democracy and data bias. via the Ubyssey
March 6, 2023
These Black Icons Have a Novel Idea to Save the Ocean
Prof. Rashid Sumaila (SPPGA, Institute for the Oceans and Fisheries) is recognized for his scientific marine research as a Black environmental leader in this interview. via Time Magazine
March 6, 2023
Nuclear Waste is Piling Up. Does the U.S. Have a Plan?
SPPGA Prof. Allison Macfarlane co-authors this article analyzing the U.S. government's response to thousands of tons of unaddressed reactor waste. via Scientific American
March 6, 2023
UN 'High Seas Treaty' good news for oceans, but finer details not yet clear
Prof. Rashid Sumaila (SPPGA, Institute for the Oceans and Fisheries) pronounces changes to the UN treaty a closer step to marine biodiversity protection, but indicates areas of further improvement. via The Globe and Mail
March 8, 2023
Getting women the health care they need and deserve
MPPGA Alumna Kazi Mohua comments on gender health inequities in Canada and efforts to close the gap. via the Vancouver Sun
March 9, 2023
States must tackle gender-based discrimination to guarantee right to a healthy environment: UN expert
SPPGA Associate Prof. and UN expert David Boyd comments on the human rights urgency for gender equality and ecological sustainability. via United Nations Human Rights
March 10, 2023
Why the Maple Leafs might find themselves in a 'no-win' situation with TikTok
SPPGA & UBC History Prof. Heidi Tworek shares how privacy concerns and government bans on Tik Tok may affect the Maple Leafs' newest partnership. via The Athletic
March 10, 2023
Strikes, patient outcomes, and the cost of failing to act
SPPGA Assistant Prof. Veena Sriram and colleagues assess the complicated patient and structural outcomes of healthcare strikes in new research. via the BMJ
March 13, 2023
Anwar's Uneasy Truce with Malaysia's Powerful Civil Service
SPPGA Associate Prof. Kai Ostwald explains why Anwar Ibrahim's government could face increasing political demands from different groups. via Fulcrum
March 13, 2023
Globe Climate: What is the UN 'High Seas Treaty' really about?
Prof. Rashid Sumaila (SPPGA; Institute for the Oceans and Fisheries) reflects on the implications that rose the necessity for the new High Seas Treaty. via The Globe and Mail
March 15, 2023
Will Iran & Saudi Arabia Join Israel and Get the Bomb?
Prof. M.V. Ramana explains how Iran & Saudi Arabia's re-established relations could take weight off nuclear negotiations. via IDN – In-Depth News
March 15, 2023
Pacific Island knowledge keepers make unprecedented journey to Vancouver to stand on the world stage
Pacific knowledge keepers sailed to Vancouver on January 30 to teach UBC about the practices, meaning, and intricacies of ocean caretaking as a cultural tradition. via UBC Office of the Vice-Provost International
March 16, 2023
Why Canada likely won't need any big new oil pipelines after Trans Mountain
Have Canadian environmentalists lost the battle but won the war? SPPGA Prof. George Hoberg provides insight. via CBC News
March 16, 2023
South Korea's nuclear U-turn threatens its green energy transition
Institute of Asian Research Fellows at the Centre for Korean Research Sun Ryung Park and Charlotte Bull comment on South Korea's reversal of their nuclear policy. via East Asian Forum
March 18, 2023
Detangling the Urban Paradox in Ulaanbaatar
MPPGA Students (Alyssa Brochu, Nellie Kamau, Niloufar Vahid-Massoudi, and Paola Matha) write on their Global Policy Project (GP2) Fieldwork: Mongolia should look to incentivize reverse migration using remote work.
March 19, 2023
Video: Canada's clean energy transition needs to consider Indigenous involvement
Assistant Prof. Nadja Kunz (SPPGA, Institute of Mining Engineering speaks to CTV News about challenges Indigenous communities face as Canada ramps up mineral expansion. via CTV News
March 20, 2023
New bill fails to address human rights abuses in supply chains
MPPGA Students (Celine Ng, Julia McKenzie, Oliver Zhang, and Rutu Patel) comment on the shortcomings of the potential approval of Canadian Bill S-211. via Policy Options
March 23, 2023
Trust and transparency in BC mining sector
MPPGA Students (Julia Basten, David Deen, Nehal Gupta, and Jackson Porreca) co-author an article examining BC's approach to communicating clean energy transitions and changes. via North of 60 Mining News
March 26, 2023
Experts Pushing for High-Seas Fishing Ban Win 'Nobel Prize for Environment'
Prof. Rashid Sumaila (SPPGA, Institute for the Oceans and Fisheries) and colleague Dr. Daniel Pauly were recently recognized for their work protecting marine biodiversity with a prestigious award. via the Goodmen Project
March 27, 2023
Court reporter Linda Greenhouse talks "the greatest prize in American politics"
UBC covers the March 23 Phil Lind Initiative event, where Supreme Court correspondent Linda Greenhouse spoke on polarization in the U.S. political sphere. via the Ubyssey