On February 5, 2016, Dr. Liou Jieh Jow, LLD '96 passed away at the age of 88. The Liu Institute for Global Issues at the University of British Columbia is honoured to pay tribute to Dr. Liou (fondly remembered as J. J. Liou), a distinguished international businessman, political figure and philanthropist, whose generous contributions through the Liu Foundation played an instrumental role in the creation of the Liu Institute for Global Issues at UBC in 2000.
UBC was no stranger to Dr. Liou's passion for global issues. Dr. Liou observed British Columbia as an extraordinary place of harmony between people of different cultural backgrounds. His aims were to contribute to the Institute and UBC so that they could leverage a greater understanding of international issues with faculty and students and thus broaden this sense of harmony to many other regions around the world. Dr. Liou was well-known and respected internationally for his accomplishments in politics, business and philanthropy. He excelled in these areas due to his strong commitment to developing understanding and goodwill between diverse peoples around the globe.
"I was inspired by Dr. Liou's abiding vision of a world in which people of diverse cultures and background work in harmony to address the complex issues of our time."
Stephen J. Toope, UBC President and Vice-Chancellor, 2006-2014
Dr. Liou was educated at the National Taiwan University, where he earned a bachelor's degree in political science. This helped prepare him for a political career, during which he served as a member of the National Assembly of the Republic of China from 1969 to 1991. After retiring in 1991, he remained active as an advisor to the Government of Taiwan's Executive Cabinet, and Secretary General of the Asian Pacific League for Freedom and Democracy. He also represented Taiwan in political dialogues with senior politicians in the United States, Japan, France, New Zealand and the Philippines.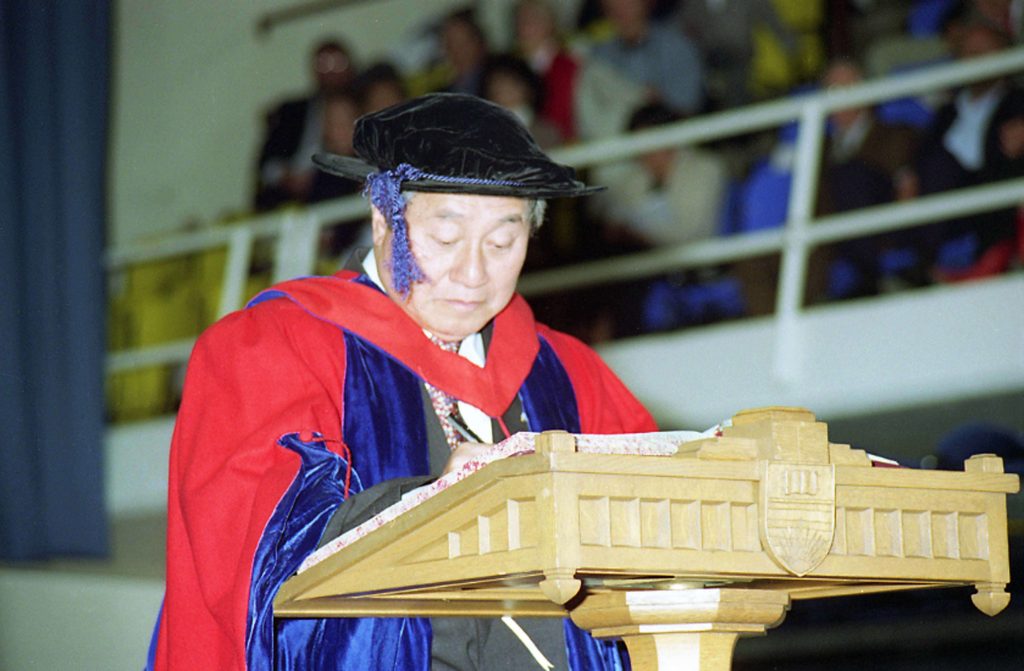 Dr. Liou's business career was equally broad and accomplished. He was Chairman of China Sport Development Enterprises in Taiwan, Eisho Trading Company in Japan, and here in BC, Coquihalla Developments Corporation, which includes the Nicola Valley Ranch, the province's second-largest privately held cattle ranch. He was a leader in restoring historic buildings in the Nicola Valley, and his contributions to increasing employment and preserving the cultural heritage in the region were very well received by the local community and the province.
"UBC thanks Dr. Liou for enhancing the lives of all members of the global community by contributing to our understanding of our interconnectedness."
Martha C. Piper, UBC President and Vice-Chancellor, 1997-2006 and 2015-2016
In the area of philanthropy, his generosity and commitment transcended boundaries. He visited the Cambodia-Thailand border in 1980 and saw a large number of mostly ethnic Chinese Cambodians fleeing Cambodia. Upon his return to Taiwan, he played an instrumental role in finding sponsorship from Taiwan for the establishment of a refugee camp in Thailand for this refugee group. At the camp, the refugees received education in Chinese and English, and were later relocated to permanent homes in different countries. This camp was later formally accredited by the United Nations. During this period, Dr. Liou would travel to the camp several times a year to see what was needed by workers and refugees alike and then do his best to help them obtain whatever was necessary. Taiwan's former president Ma Ying-jeou personally attended his funeral to present a citation of special recognition for his contributions to Taiwan, the Republic of China.
"I deeply valued Dr. Liou's friendship and will remember him fondly. It was an honour to see him connect his advocacy for peace with his significant contributions to UBC."
David W. Strangway, UBC President and Vice-Chancellor, 1985-1997
Dr. Liou was infinitely curious, always eager to learn about new global developments. He built many lasting friendships with people from diverse backgrounds. At the Liu Institute for Global Issues, we are honoured to have collaborated with Dr. Liou to support policy-relevant research on urgent global issues that advance sustainability, security and social justice for communities around the world. He will be remembered for his lifelong commitment to international aid, to promoting cultural and educational exchanges between Taiwan and Japan, as well as for his work with parliament.
Dr. Liou received an honorary degree from UBC in 1996.